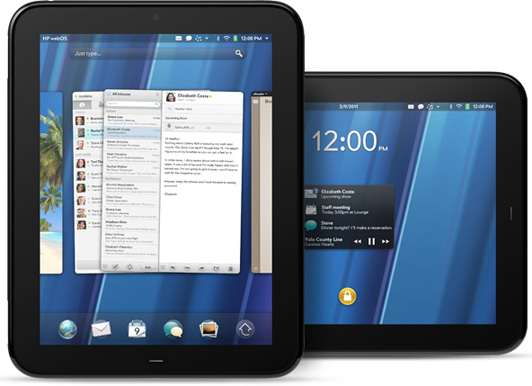 At first, HP made its first announcement of their webOS tablet – the HP TouchPad in February 2011. This was the fruits of the labour after their acquisition of Palm for USD$ 1.2 billion in April 2010.
The world was excited to get their hands on the first webOS tablet. Although the original Pre mobile phones running webOS has not been well received as a mobile OS or hardware, but promising for something greater. The OS would be great as a tablet for its strengths in multi-tasking capabilities that is smooth and fluid.
Somewhere in between, HP reassigned Palm's CEO, Jon Rubenstein as their new head for Personal Systems Group – who will oversee the whole HP's PC business. A promotion or a demotion (taking away his webOS baby), is a source of debate. They promoted Stephen DeWitt as their new SVP of webOS.
HP promised that the HP TouchPad would be out for mass market in the coming weeks. But it didn't happen so. It took them months and the HP TouchPad was only finally out in the shelves in July 2011. So delayed that the market has moved on, forgot about it and was swamped with Apple iPads.
After only 49 days on he shelves in the market and abysmal sales figures including BestBuy reported only selling 25,000 out of the 270,000 units of the tablet they have in stock. HP's CEO, Leo Apotheker released a shocking Press Release in conjunction with HP's Q3 Financial Call. HP announced that it will discontinue webOS hardware and possibly spin off it's Personal Systems Group, namely the PC making business.
From that faithful day onwards, the web reacts with the classic stages of grieving for the loss of webOS.

As any psychologist would point out, the Internet is going through the classic phases of grief for the loss of webOS.
 DENIAL – This can't be happening!
The internet was taken aback with the way HP has chosen to break the news. Not a proper Press Conference. Not a slow announcement or meet up with the media, just a simple Press Release.
The internet tried to interpret the Press Release and started asking questions to get clearer answers. The clarification is clear now – HP is not killing webOS after an expensive USD$1.2 billion acquisition of Palm, they're only killing the webOS hardware.
That's still bad news. The HP TouchPad just released not too long ago. It also JUST hit Singapore shelves on August 12. So, now there won't be anymore upgrades or support for the hardware anymore?
Then AT&T announced that it's officially cancelling their Palm Pre 3 mobile phone orders and will not be offering them anymore.
ANGER – Why is this happening? Who's to blame?
Die-hard Palm fans would be familiar with the PreCentral blog solely dedicated to all news and announcements of Palm and webOS. Following this shocking news, the owner of the blog, Derek Kessler posted an honest and harsh open letter to HP titled, HP has neither balls nor brains. It is a very interesting read.
Here are some interesting excerpts of his blog post:-
For the past year I've tried to put on a happy face and say nice things about HP even as you consistently failed on almost every single execution point of a launch that you possibly could.
And then, out of nowhere, you decide to dump webOS hardware. In a press release.
You said in your press call yesterday that you crunched the numbers and decided it would cost too much over a year or two to develop your webOS products into a competitive lineup. Seriously? Did you not crunch those numbers before you made the decision to buy Palm in the first place?
Yesterday you demonstrated your lack of ambition, your lack of commitment to long-term success, and your lack of foresight.
There were some very harsh words in his post. But it brings a great point – if the company (and OS') biggest fan is upset and sounding off, what else is left of their supporters?
Then, there were also some questionable allegations -
They all – even webOS PR – found out about this move through your press release or sites like this one. Heck, not even executives like Todd Bradley or Stephen DeWitt seemed to know that this was going to happen.
So, he's saying that the CEO made a hasty decision and announcement.
Engadget quickly followed up with an interview with HP's SVP of webOS, Stephen DeWitt amidst all these talks. You can read the full interview here.
I believe Mr DeWitt is extremely articulate in this interview and said all the right things any big MNC executive would. It seems HP is genuinely making a bold step but cannot be definitive in their future plans with webOS or their PC business as yet.
There were also some bigger allegations from ZDnet that HP CEO never wanted webOS to succeed as he is a software man, not hardware. Read that article here.
BARGAINING – If you reverse this, I will_____
Then, comes the articles trying to analyse the situation and decision in a much mature tone. PhoneDog.com published a good post on where HP (and Palm) went wrong with their webOS strategy here. Another good read.
A few quick excerpts -
The problem was never software. Most of those who actually gave it a chance will agree.
Neither Palm or HP knew differentiation. HP entered a market at the worst time for a company with little to no mobile and software knowledge to possibly enter.
Purchasing a company and IP for $1.2 billion only to throw it away a year later because they faced a bit of adversity shows HP's poor planning and lack of ambition.
And the best conclusive line in the post…
I hate to jump the gun and throw in the towel on webOS, but if the owners of the software are, why shouldn't we?
A couple of days after this announcement, HP releases a memo to their retailers to start a fire-sale of the available stock of HP TouchPads in store – selling the 16GB for USD$99 (original Retail Price USD$399) and 32GB for USD$149 (originally USD$499).
Twitter #HPtouchpad hashtag started trending with people started to search everywhere online and in store for the sub USD$100 tablet. It was sold-out in a weekend and became the most sought after tablet of the week. Starting from Canada, to US to UK, even HP created a notification system for those who still wants to buy it.
Sadly, HP Singapore only reduced a measly SGD$100 on their stock.
Articles like this one by Gizmodo started surfacing on what you can do with your USD$100 tablet, even if it will never be supported or updated ever again. This post of Top 10 Things to do with your HP TouchPad seems silly to me. It practically lists everything that you would be using a tablet fot – regardless of whether it's a HP TouchPad, iPad 2 or Android Honeycomb tablet.
With the DOA (Dead on Arrival) HP TouchPad selling like hot cakes, the developer community got excited again. There's Microsoft quickly moving to lure webOS developers with free phones, tools and training over to Windows Phone 7 platform. The modding (read : hacker) community started offering rewards of USD$1500 for the first person to install a successful run of Android on the HP tablet.
The TechCrunch folks wrote an interesting post pleading for HP to continue to make the HP TouchPad – with a different strategy direction. HP should reduce the BoM (Build of Material) and sell a sub USD$200 tablet, watch it fly off the shelves and get developers excited about webOS again. Very interesting point.
DEPRESSION – I'm too sad to do anything.
As of today, there's still significant buzz around the HP TouchPad USD$99 fire sale around the world. I guess the Internet has not gotten around to be depressed about the death of the tablet yet.
Then again, because the tablet never really hit mass adoption and garner hard core fans yet, the death of the webOS hardware might not evoke the depressed emotion from the tech world.
Only time will tell,..
ACCEPTANCE – It's OK. I'm at peace with it now.
Consumers in general (non webOS fans) were rather unfazed by this news and am just happy to get a USD$100 tablet. Many started tweeting about this being the best price point for tablets – regardless of OS.
Developers on the other hand, gets more realistic. According to WPCentral, Microsoft is boasting that over 500 emails has been sent to him from webOS developers asking to get on board the Windows Phone 7 program.
Things might change in the next few days or weeks, though. Once HP decides the next step and fate of the webOS platform, we can speculate and debate again on this.
For now, there are camps of people who thinks that webOS is indeed dead, regardless of what HP chooses to do with the software (or platform) moving forward. Some thinks that the platform will live on in the Enterprise space, gone from the consumer eyes forever. Some thinks that webOS will continue to live as a licensed consumer mobile OS like Windows Phone 7 and Android.
Which camp do you belong to?
A final note : as I've shared a bunch of links to some very interesting articles here, let me know your thoughts and if you agree / disagree with any of the Internet's train of thoughts. What do you think of this move from HP and what do you think will happen next?
About the Author :-
Winnie Chen-Head is a telecoms professional specializing in the area of Mobile Advertising and New Media Management including Social Media strategy for professionals and businesses. She started in Advertising & Internet Marketing and moved on to the telco product management and marketing in the recent years.